Hydraulic Training Equipment
Hydraulic Training Simulator
We offer a variety of available models of our standard trainer to suit your budget. If you are not a school and would like an instructor to train your students with the trainer you buy, that can be arranged. (Email for Details) The pictures below may or may not match your supplied model. Please call or email us for the exact picture and details of the trainer based on your needs.
General description:
We use a variety of Mfg. products, such as Rexroth, Parker, Vickers, Sun Valves, and more. We are not tied down to any one Mfg. This Variety enables your students to see real-world valves that are common in most industry applications. If you would like to customize your Simulator to include a specific brand of Valve, Cylinder, or other peripherals, let us know and we can design your order around that.
Our Hydraulic trainer can simulate a multitude of circuits while giving access to built-in troubleshooting features. The units can simulate Aeration and Cavitation. Trainers can come one-sided or double-sided. One side can accommodate up to 4 students, or 8 students for 2 sides.
We provide a workbook to guide students and instructors through many circuits (over 30) that can be performed on the trainers. It is designed for instruction on basic system design and troubleshooting of hydraulic systems. Also, a complete book is included that informs students of factory specifications, performance, and operation of each component paired with the trainer. The labs range in difficulty from simple to very complex. The instructor can determine which labs to utilize, depending on their students' abilities.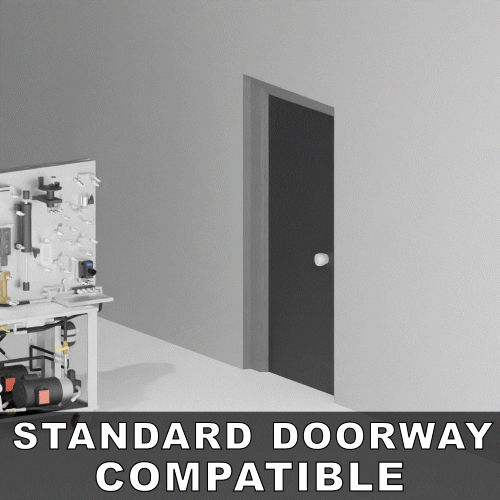 Video Presentations Various Trainer Models
Our standard unit comes completely tested and assembled and includes these standard components:
(For Double-Sided Trainers double the components below. Train up to 4 people per side!)
Electrical Control Box includes all switches, Driver Card with joy stick and 24 volt power supply
POWER UNITS: 120 volt 1 phase, 2 GPM gear pump, double side includes a 3 gpm pressure compensated pump
9 gal Reservoir W/ filter and sight glass
Electronically adjusted PROPORTIONAL Control valve with Joy stick (ramp,dither,gain adjustments)
4 pcs. SUBPLATES
1 pc. D03 SOLENOID VALVE 4 way
1 pc. SOLENOID valve 2 way
2 manually operated D03 directional control valves
Counterbalance Valve
Temperature and Pressure compensated flow control
Relief Valve
Pilot operated check valve
Sequence Valve
Pressure Reducing Valve
2 mounted gauges
Hydraulic Motor W/ Brake
Flow meter with Flow Alert
Rotary Actuator
Roller actuated 4 way directional valve
3 pcs. Hydraulic cylinders. (one simulates load)
2 pcs. Porting blocks
Accumulator
Accumulator Safety Valve
COUPLINGS zero leak
FITTINGS
HOSES
Picture Supplied
Components, which are shipped loose:
1 Additional Solenoid Valve with different Spool
Check Valve
Standard Flow control
Needle Valve
4 gauges with mounted couplings
4 tees with mounted couplers
Shuttle valve
DUE to rising prices I can no longer post prices, please contact us for a quote