The main thrust of Doc's Hydraulic-Pneumatic Training is Training. Our instructors are Fluid Power Society Certified.
Our experiences include all major Fluid Power Manufacturing companies (Vickers, Parker, Rexroth, Denison, etc), so we can custom fit and mold the training to your equipment. Our training programs are typically tailored to the needs of the individual customer, and not generic in nature (NOT one training fits all), with the exception of the Fluid Power Society Certification reviews. Our schools include the use of "hands on trainers" with real functional Hydraulic or Pneumatic components depending on the class.
Our Pneumatic and Hydraulic class can be combined.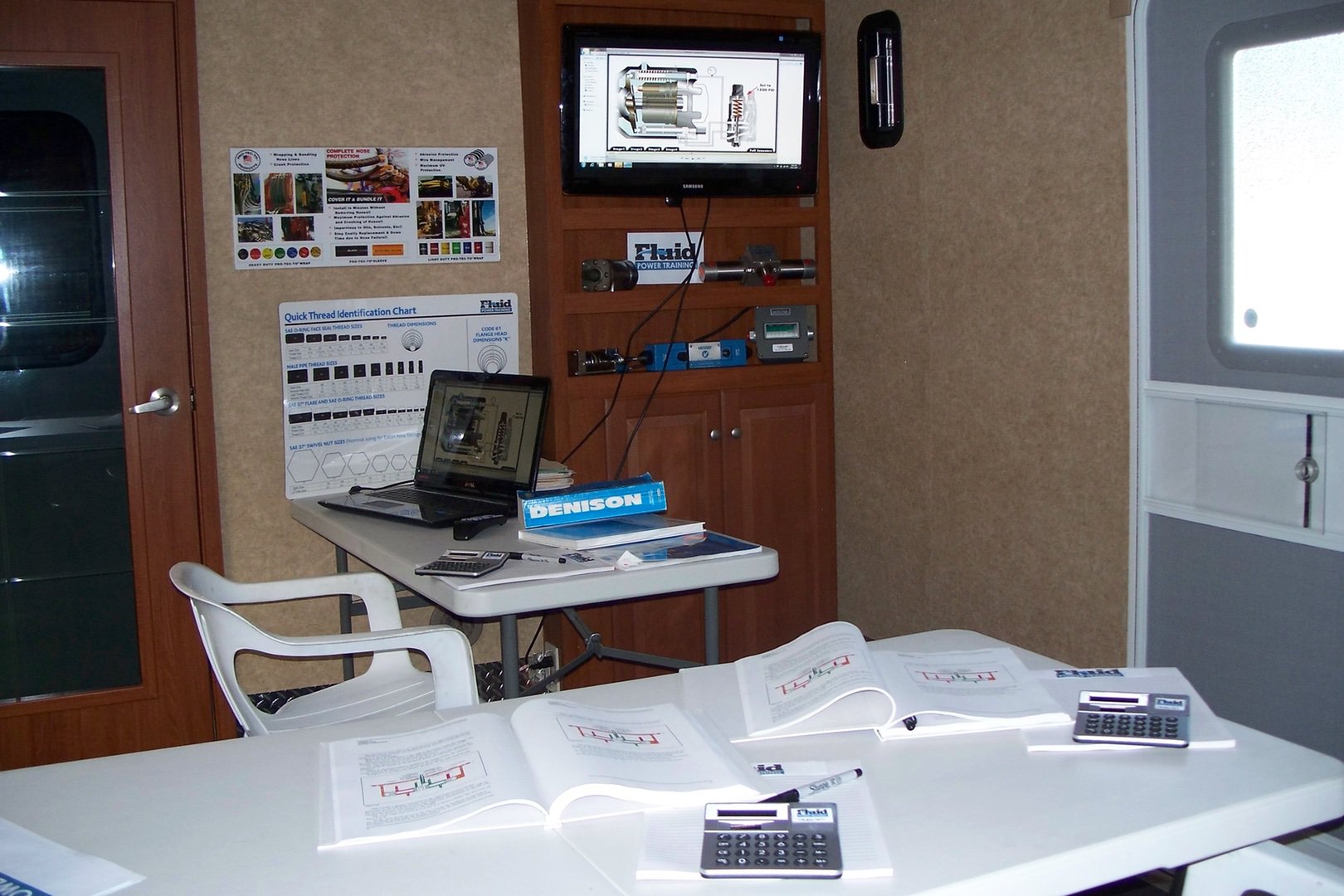 (01-training-pneumatic-hydraulic-class.jpg)
We are very proud of the information we provide to customers on Hydraulic Trouble Shooting, Basic Hydraulics, Proportional and Servo School, Fluid Power Society Certification Reviews, Pneumatic Training, and Aro Logic schools. Once our school is over we offer follow-up reviews and continuing education for new employee hires.
Safety is highly stressed throughout our schools with emphasis on Hydraulic and Pneumatic "best practices" in troubleshooting and maintenance. Throughout the schools, we illustrate possible ways of predicting system failure with the latest analysis tools while giving real world examples which are based on many years of hands-on technical experience.
We are flexible and will travel anywhere and work around your work schedule, to keep production running. In addition to standard training we will initiate plant surveys to design a school around your equipment or use your manuals to familiarize your personnel with your individual equipment. We can make Hydraulic training manuals specific to your equipment.
Furthermore, we offer an intense and unique training program where we instruct as little as 2 to 4 candidates, in our mobile Training Lab.
Included with all our classes are student workbooks (Industrial Hydraulic Technology for Hydraulic class) and Fluid Power Data books for their use during and after the class.
Schools Available: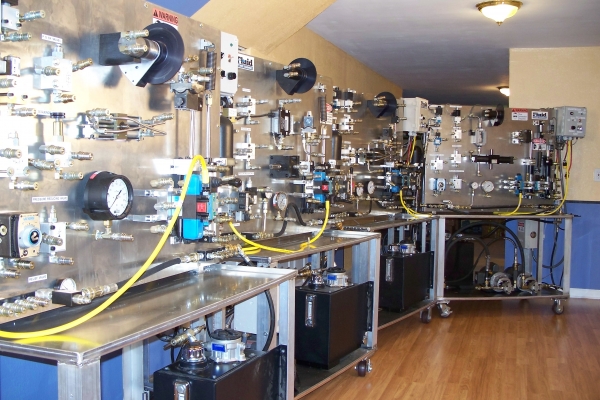 Basic hydraulic or pneumatic school for 4 to 20 people.
More advanced Mobile or Industrial hydraulic training.
Industrial or Mobile Hydraulic Troubleshooting two day or three day classes.
Custom Hydraulic or Pneumatic School tailored to customer's equipment.
ARO Air Logic School
Hydraulic Proportional and Servo school 2-day to 3-day classes.
Lincoln Lubrication Training
Consulting, Design, Circuit Drawing updates.
Oil field Hydraulic Equipment Training: Varco and FDS Top drives
Call us for a quote and tell us your needs:
First, most schools are custom and the price depends on how many students, the flexibility of your schedule, how many days your associates are available, and what facilities will be used, i.e. Customer's Training facilities or Hotel.
Second, we are always looking at cost savings as a way to offer a better service. To that end we try to schedule training and schools in clusters. When possible, we schedule according to location and date, which allows additional cost savings, due to less travel, which can be passed on to you.
We are intensely competitive and very flexible when it comes to meeting our customers training needs. Call and see how we can fulfill your training needs. We can typically give you a price over the phone. Or submit your information through our contact form and we will respond immediately.
Once we agree on a school type, you can use the form below to submit a formal agreement, then a schedule can be agreed on.

Get the PDF form to submit for detailed training information and scheduling.
On Windows, Right Click and choose "Save File As..." to download. On Mac Option Click to download.